Sunday, November 21, 2010
I'm only human
I cannot help but feel bitter.

popiah


6:49 AM
0 unpassionate people:

Everything i do, i do with passion

Wednesday, November 10, 2010

Reflection of studio project

Our studio project was about a clay model forced on a journey to save his master's life.
About our creativity project, I have discussed about it already, in a previous post, but I sahl do so again.


Firstly, we have to introduce ourselves to each other in the research group, a stage I call * HEY MAN LET"S BE FRIENDS*. This is the stage where we all act nice and try to gauge each other. When that's done, we start by IDENTIFYING the problem, and sitting down together to brainstorm. Holy crap, that's when the trouble will start. Some people may disagree with other people's ideas, leading to arguments that if not resolved, end up festering and just destroys the group's morale.
Well, if that's all done and dusted, we will all engage in vigorous research, before heading into Incubation, where we all stand back from the problem and look at it in different angles (some call this the slacking period, as we don't really do anything productive here, I don't see much honestly, I rather be doing something… productive). More often than not, I see this process not taken seriously, as people will be just slacking off or slinking away for 3 hour toilet breaks. How the hell one thinks of ways to effectively create a character concept while taking a dump is just…
When that's all done and dusted, the group then enters the Illumination stage, where we finally settle down on an idea and prepare to pitch it/test it. If nothing goes wrong (and most of the time it does) we will go straight towards validation. If not, we would just have to try again and again till we get it right.
Lastly, we will refine the idea, and that's when that all mighty bolt of tremendous insight hits us in the cranium! We then perfect it, and assign roles and tasks to be done. Success, man!Moral of story: Do not slack, work hard and smart, ask lots of questions, never say die and just keep on going. Like how my group's creativity model shows, just go head first and never give up, eventually you will hit that super idea lying dormant somewhere in our minds!

popiah


8:00 AM
0 unpassionate people:

Everything i do, i do with passion

Wednesday, September 22, 2010

Play as a way to design: Games in Media

(final post is in March Archives under Links tab due to space constraints)

In today's post, I will be explaining some ideas of what 'play' and 'games' are, as well as some ideas and theories of mine before touching more on games in mainstream media such as films and movies. I feel that this would be very useful to read through as readers would understand more about what a 'game' is and will appreciate the post about the main post better. Let me start by introducing a man and his ideas.

In 1938 Dutch historian Johan Huizinga introduced the idea that man is also a Homo Ludens (a playing man), a man for whom play played a vital part in both culture and society, sometimes regarded as an act of emancipation.



What is Play and Design



Almost like 1d, 2d, 3d, 4d? Mindscrew.



Huizinga (1938, pp. 8-9) identifies 3 characteristics that play must have, which that it was free, in fact the embodiment of freedom itself. Play is not "ordinary" or "real" life and that play is distinct from "ordinary" life both as to locality and duration.

Design is basically experience, skills and knowledge that are applied by Man to change and "mould his environment to suit his material and spiritual needs" (B. Archer, 1973, p. 1).
Huizinga writes that all play "is a significant function—that is to say, there is some sense to it.... All play means something."(Huizinga 1938, p. 1) and predates and even produces culture:"Culture arises in the form of play... is played from the very beginning... It is through this playing that society expresses its interpretation of life and the world."(Huizinga 1938, p. 66)

But Roger Caillois defined play as "an occasion for pure waste: waste of time, energy, ingenuity, skill, and often of money..." (Caillois 2001, pp. 5-6)
Nothing is produced; no progress is made in the act of playing the game itself. Which I disagree vehemently, as play makes use of Man's mind and body. In play Man exerts and exercises his body and mind, keeping it sharp and fit for the rigours of 'real life' where play is real. Playing is often a mimic of real life skills and jobs, a make believe of some sorts that allows Man to have fun while strengthening those skills at the same time.


Chess players stretch their minds trying to outwit each other; it keeps the mind ticking, which maybe why its many forms are so popular with the elderly worldwide who often face dementia because of old age.

Play sharpens skills and encourages players to think of ways to improve on their strategies and iron out potential kinks, which is of immense help to design. As of how the body and mind of Man can be kept in optimum condition through play, so can design through using play to further improve the skills and knowledge applied in designing something.



For example, when engaging in a snowball fight, in the process of playing one would find the optimal force and angle needed to throw and hit the target with a snowball of a certain weight. Likewise this newfound knowledge can be applied to designing a tennis ball launcher that would be able to fire tennis balls with the same levels of power and angle acquired from playing accurately at players to hit, therefore suiting one's material needs.

Not only are current skills improved during play, but new skills may develop as a result too. One such example would be of the Aborigines of Australia. They were a primitive people prior to European intervention in their way of life, so they used the technology and materials available to them in the bush land. (Clarke 2003, pp. 51-53) During times when they were not hunting or foraging for food, they entertained themselves through play like dancing and making music that eventually turned into their rituals and culture. A very iconic musical instrument of theirs, the Didgeridoo, is a straight hollowed out tree branch which is blown through using the vibrating lips of the player to vary the sound. Through play, they found out that blowing through a termite hollowed branch resulted in a sound that could change according to how strong they blow. This newfound knowledge prompted them to improve on the musical instrument's design, decorating it with Aborigine patterns and designs. Generation after generation they kept on improving it and it became the Didgeridoo as we know it today, therefore suiting one's spiritual needs.



Animals and Play



Animals at play

way

before humans did

Huizinga states that "animals have not waited for man to teach them their play" (Huizinga 1938, p. 1).Despite what seems like childish behaviour, play actually occupies a near primordial role in the foundations of society.
Warblers are known to toss stones onto the ground for no other purpose than for the fun of it. Young animals (dogs) wrestle with each other playfully, and lemmings follow a random leader everywhere to the extent of jumping into bodies of water without a care. (Brown, December 1994, p. 13)



But are animals actually playing in the same way humans do, or if we are just projecting our own experiences on an alien animal kingdom?


What we perceive as play could be entirely different from what animals perceive, but as lion cubs who romp around and stalk each other they undeniably practice hunting skills which will be put to the test as they grow into adults. Such similarities to children playing with each other, playing 'doctor' or pretending to be cooks or of other occupations will also lead to such a conclusion above.

But what seems to separate play of Man and Animal is that our play is more specialised and complicated, where rules and regulations are often brought into play and improved upon, updating and creating new play, while animals are limited to their play for millennia.

But let us not forget that for play of Man usually is a contest or representation for something desirable that would fulfil one's material or spiritual needs. Inevitably, it becomes a contest with rules and regulations or

Agon

which I will touch more upon in the next segment.

Wild Turkey + Homo Hungrysapiens = Meleagris Roastpavo



For now, I would like to highlight to the reader of the case of the wild turkey (animal). Baby turkeys are also known as poults, and spend their days playing with their siblings and mother, who guards them and play with them, teaching them survival skills. When male poults grow older, they start to compare their tail feathers (plumage) with each other as they play and eventually leave the nest. While their mating season begins in early spring, adult males would start to gobble loudly before sunrise while displaying proudly its royal looking plumage and dance around in a game where the most enticing male would capture the attention of on looking plain female hens and snagging them as mates. (Christman 1999) Play suited the turkey's material needs by giving him a mate, allowing him to pass on his genes and experience pleasure.


No competition here... Oh wait.



Likewise, while examples like the Apple iPhone and Armani watches serve the same purpose as other phones and watches on the market, sleek and elegant design have made these two products stand out and popular, resulting in more sales.
Like design, the essential feature of it lies in the parading of something out of the ordinary and calculated to arouse admiration.



Competition in Play itself



The myth of playful competition gleefully ignores the undeniable fact of competition: there must be a winner and a loser. As Huizinga notes "the primary thing is the desire to excel others, to be the first and to be honoured for that... The main thing is to have won." (Huizinga 1938, p. 70)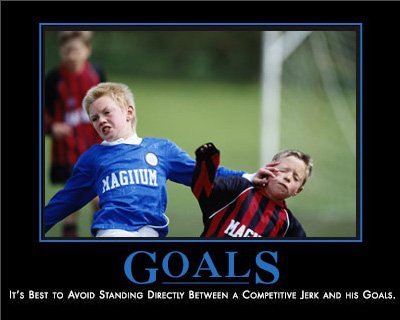 Huizinga continues that "Any other group (or individual) is always either your friend or your enemy. Enemy, of course, is not to be understood as

inimicus

or

ecthros

, i.e.,

a person you hate

, let alone a wicked person, but purely and simply as

hostis

or

polemios

, i.e., the stranger or foreigner who is

in your way

. The theory refuses to regard the enemy even as a rival or adversary. He is merely in your way and is thus to be made away with." (Huizinga 1938, p. 236)

One thing both writers Huizinga and Caillois do agree on is the play element of

agon

as the principle motivation behind games. (Caillois 2001, pp.14-15)



Agon

means a contest, competition or challenge in ancient Greek. (Huizinga 1938, p. 48) It is the desire to win, whether in a game of chess or on the battlefield of war, to defeat and overcome all obstacles to be the only one standing, the one and only winner.


In the wrong magic circle with the wrong agon



Huizinga said that when"competitive play begins; the ordinary world is suspended as players step into its magic circle, existing in a different time and space." (Huizinga 1938, p. 18). By space, I mean the area that is set aside for the play to take place. By stepping out of this sacred space reserved solely for play, the magic is broken. Consider the soccer field which is outlined by four white lines, where play is immediately stopped when the ball lands outside it. The same goes for the card-table; leaving it results in no dealing of cards to the player. Within these

magic circles

play imposes its own rules and regulations, creating order and opening up to players another level of consciousness. With this, however, players now have a motivation to win, an objective to fulfil:

agon

.


-Magic Circles can be anywhere-
He shoots! He scores!

The winner of competitive play would be able to claim that he or she is superior to the rest in some form or another, therefore establishing a sense of order, a sort of social hierarchy where all the players accept. Inevitably, culture would arise from such play. Different cultures have different play and rituals, and are formed by them as Huizinga wrote. With different cultures comes different needs, and the way people design their products to suit their material and spiritual needs are different from culture to culture.

For example, ancient Greek clothes had flowing, airy robes that spread across parts of Asia where Alexander the Great conquered (Wicklen 1967) and 'won' in the magic circle of the battlefield. Such designs influenced the various conquered Asian cultures back then, like parts of India that were invaded whose Buddha statues had long flowing, airy robes which the older, original designs didn't have. One such example can be found in the Asian Civilisation Museum in Singapore.



Play as a way to design



Design is not an activity solely reserved for designers, but a shared activity for those who design products, architecture, and even environments, and those who use them. Play as a way of design sharpens the skills and knowledge applied in designing all matters of things. The use of agon in play which determines a winner also determines how design would be influenced and used in the social order and culture.
All in all, design is basically experience, skills and knowledge gained through play which is then applied by Man to change and mould his environment to suit his material and spiritual needs.
Which brings us now to how Man has now incorporated games into modern media such as film and movies. My friend Keenan and I did a presentation on the topic, so I will be uploading the slides too.



Games in Fiction







Bibliography



Johan Huizinga, 1938. Homo Ludens. Beacon Press, pp. 8-9.

Leonard Bruce Archer, 1973. The Need for Design Education. Royal College of Art, p. 1.

Johan Huizinga, 1938. Homo Ludens. Beacon Press, p. 1.

Johan Huizinga, 1938. Homo Ludens. Beacon Press, p. 66.

Caillois Roger, 2001. Man, Play, and Games. Urbana: University of Illinois Press, pp. 5-6.

Phillip Clarke, 2003. Where the Ancestors Walked: Australia as an Aboriginal Landscape. Crows Nest, pp. 51-53.

Johan Huizinga, 1938. Homo Ludens. Beacon Press, p. 1.

Brown, Stuart L, 1994. Animals at Play. National Geographic Magazine, Issue 186, December 1994, p. 13.

Carolyn Christman, 1999. Birds of a Feather: Saving Rare Turkeys from Extinction. Amer Livestock Breeds Conservancy.

Johan Huizinga, 1938. Homo Ludens. Beacon Press, p. 70.

Johan Huizinga, 1938. Homo Ludens. Beacon Press, p. 236.

Caillois Roger, 2001. Man, Play, and Games. Urbana: University of Illinois Press, pp. 14-15.

Johan Huizinga, 1938. Homo Ludens. Beacon Press, p. 48.

Johan Huizinga, 1938. Homo Ludens. Beacon Press, p. 18.

Ulrich Wicklen, 1967. Alexander the Great. Norton.

popiah


6:20 PM
0 unpassionate people:

Everything i do, i do with passion

Tuesday, September 21, 2010

The Hero's Journey: Mind of the Hero (not an hero you idiots)

What defines a hero?




No, no that hero. The Hero, the Archetypical hero ( more on that on the next post).

Do heroes always have to follow a term what Joseph Campbell calls Monomyth, or as it is more often known, the Hero's Journey?




In The Hero with a Thousand Faces, a book he wrote in 1949, the introduction states:

A hero ventures forth from the world of common day into a region of supernatural wonder: fabulous forces are there encountered and a decisive victory is won: the hero comes back from this mysterious adventure with the power to bestow boons on his fellow man

Most games, especially Role-playing games (RPGs) follow this format:

Departure: the Hero leaves the familiar world behind

Initiation: the Hero learns to navigate the unfamiliar world of adventure

Return: the Hero returns to the familiar world

As the writer of my studio team, I have used elements of the hero's journey to construct the game's plot.

Miraculous or unusual circumstances around the Hero's birth


Silico and Alumina are animated clay golems created by the Clay Master, a hermit living in a beautiful forest isolated from the rest of Humanity.

Begins in the ordinary world of the Hero's hometown


Silico and Alumina live together with other golems and their master in a little cottage in the forest.

The Herald brings a Call To Adventure


Alas, old age has caught up with their master, who realises he's dying.
Silico and Alumina's Master's dying wish is to see a statue of himself so that people would remember his legacy of THE Clay Master. Therefore he selected Silico and Alumina, two of his best creations to construct this statue.

The Hero must then decide on how to answer the call, which in my case instead of a refusal of the call, Silico and Alumina jumped at the call since they loved their Master with all their being.

Crossing the First Threshold


The Hero must make a conscious, willing decision to embark on the adventure and leave the known world behind.

However, the Master lost his sculpting tools a long time ago, and the amount of clay needed to construct such a statue was immensely high. Now, Silico and Alumina have to set off to find the various mold casts required to remake the sculpting tools (which they absorb as blueprints) while increasing their clay resources, venturing under the land where they lie buried and forgotten.



On their way down however, the Crow spots them and swoops after them into the nest of the nasty Clay Eater Ants instead of Clay Cave, their original destination.

Road of Trials


The meat of the story, where the hero overcomes obstacles, form allies and confront enemies.

They then met Jimmy the hungry Earthworm, becoming fast friends. They also have to deal with countless ants wanting nothing else but their demise. Worthy adversaries (bosses) like Big Sarge, the Captain of the soldier ants also stand in their way.

The Belly Of The Whale


Represents a symbolic death for the Hero: the Hero is defeated and killed, his flesh scattered, ready to be reborn and emerge as a new person.

As Silico and Alumina venture deeper into the Ants' nest, Alumina gets kidnapped by the Aphid Assassin Brothers. Devastated at his helplessness to prevent the kidnap, his ally Jimmy the Earthworm manages to get him back on his feet, 'reborn' and determined to rescue Alumina, descending deeper into the nest

Night Sea Voyage


The Hero must sneak into the Big Bad's Elaborate Underground Base and retrieve something or someone.

After fighting off the Aphid Assassin Brothers guarding the Royal Chamber, Silico confronts the Queen Ant and tries to let her see reason and release Alumina.

Fight against the Big Bad / Ultimate Boon

Fight against the Big Bad:


The Hero confronts the Big Bad in a typical David Versus Goliath fashion: He is usually called upon to sacrifice himself or something/someone important to him. Note that asked is the key word here—it's usually enough that the Hero be willing to sacrifice something without actually having to do it. Someone else will sacrifice himself in the Hero's stead, or the Hero will prove to have outwitted the Big Bad somehow (through heroic willpower!)

Ultimate Boon:
getting the reward the hero's been chasing all this time

Forced to defeat the Ant Queen to save Alumina, Silico uses all the tools he had gathered so far to fight the Queen with all his might. Not willing to sacrifice either Alumina or the master's tools, Silico's will overpowers the Queen's, defeating her.

The epic battle has weakened the nest's foundations as it threatens to collapse upon itself.

Refusal of the Return

Are you crazy? The whole place is collapsing and you think the hero is going to stay around and admire the furnishings?

The Return


The Hero now has the boon and high-tails it away, with the villain or his forces in hot pursuit; while they engage in a battle of wits and magic

Jimmy shows up in time to rescue them as he digs with them up towards the surface as they race against time, reaching it safely.

Crossing the Return Threshold


Their joy is short-lived however as the crow that attacked them earlier at the start of the game has now targeted them again. Running away from the crow, they manage to defeat it with the help of Jimmy the Earthworm by shooting it down on its back with clay pellets.

Freedom to Live



Remember what I said about someone else will sacrifice himself in the Hero's stead earlier? I chose to put it here where the player discovers Jimmy's fate for added impact when they finally realise his heroic sacrifice.

Carrying the broken body of Jimmy who sacrificed his life protecting them, Silico and Alumina reaches the house of their master.
Upon seeing them the Master's eyes lit up with life again, but quickly filled with remorse and regret as they lay Idot's body on the cold floor. Standing up for the first time since his illness, the Clay Master makes a decision.
Gathering up the casts and tools, he performs his final masterpiece. As the casts spin around him, they draw power from the Clay Master as he starts molding Jimmy with clay.

Kneeling down on his knees, the Clay Master holds the revived Jimmy (in clay form!) in his hands. The Clay Master smiles gently as he says: "For all of you, my children, are the living legacies of me myself." As he passes away a falling star streaks across the sky, marking the passing of a great man, the Clay Master. Silico and Alumina cry gently, understanding the message their dear Master left behind, resolving to live out the rest of their lives happily with the other M.A.Gs, carrying on the legacy of the Clay Master.

Conclusion: Other than being a good setup for constructing a protagonist in a game itself, I would also like to say that it doesn't always work for all kinds of heroes. Let me clarify that in detail for my next post: Deconstructing & Reconstructing the Hero Archetype. And a little confession, I wasn't sure how to begin with ths particular post. Do I just regurgitate what I have learned and just write about the heroe's journey and mindnumbingly recite from the book and sources.


I then remembered this and was convinced I am writing the right thing.

yours sincerely,

popiah


12:54 AM
1 unpassionate people:

top [url=http://www.001casino.com/]casino online[/url] brake the latest [url=http://www.casinolasvegass.com/]casino online[/url] manumitted no deposit bonus at the leading [url=http://www.baywatchcasino.com/]easy casino
[/url].